It's a credit card terminal, in your PC.
Your clerks log In once in the morning or shift and it stay on all day. Connect a printer or a credit card reader to it to print receipts, and swipe credit cards. Upsize to make a sale, Minimize when not needed
Features
Create login/password for each cashier / clerk.
Set default tax rate.
Deployed in professional offices or CSR's desk/cubicle or small retail stores, Call Centers External Sales. B2B B2C. Load this on PC and upsize to process a sale without calling the office.
Select FREE and discounted
services that come with your new merchant account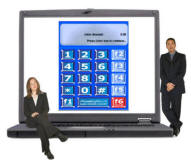 JavaPOS Retail

The Java based Point of Sale
software JPOS


Great for Mobile Techs too!

Video #2 Manual Enter w/ Description Fields

Call for service quote
888-866-4192